Training for Endurance Events

for the

Leukemia & Lymphoma Society
Why I run (a look at a TNT triathlon up-close)

May 18, 2003
1.5K Swim, 41K Bike, 10K Run
Centennial Park
Ellicott City, MD
The Leukemia & Lymphoma Society's Team In Training® (TNT) is the world's largest endurance sports training program. They provide you with the coaching, training and even the travel opportunities to make your athletic goals a reality. It's an unbeatable offer with great personal rewards.

What's the deal? In exchange for the training and support, you raise money toward a cure for leukemia, one of the leading disease killers of children; lymphoma, the leading disease killer of men and women under 35; and other blood-related cancers.

Join National TNT Chairman Marty Liquori and the more than 30,000 runners, walkers, cyclists and triathletes who will participate in the world's major marathons and century rides (100k bike ride) this year on behalf of the Society. TNT has raised millions of dollars toward finding cures for leukemia, lymphoma, Hodgkin's disease and myeloma.

Contact Team in Training for more details or to find out about upcoming event informational meetings in your area. (see: http://www.teamintraining.org/hm_tnt)
2. What endurance events does TNT train for?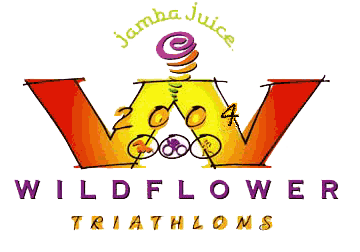 TNT does almost any endurance event you can think of. I have done the following with TNT:

Olympic-distance triathlon: swim 1.5k, bike 41k, run 10k

Half-marathon: 13.1 mile run

Century ride: 100 mile bike ride

Half-Ironman: swim 1.2 mi, bike 56mi, run 13.1 mi
3. How long does it take to do these events?
event

top female (in my division)

average (in my division)

me

Olympic-distance triathlon

(I'll use Columbia as an example)

2:28:57

3:20:00

4:03:00 (2003)

3:34:33 (2004)

White Rock (TX) Half-marathon

1:23:00

2:20:00

shooting for 2:45:00

Wildflower Half-Ironman 2004

5:27:10 (she's an animal)

about 7 hours

8:13:00

Century ride

to make it in 5 hours, I'll have to average 20 miles per hour without stopping. Let's say... 6 hours.
4. What kind of training do you do for this?
Team in Training provides the training supervision. For the triathlon, we had a workout schedule that looked something like this:

training week

Sun
Mon
Tue
Wed
Thu
Fri
Sat

WEEK 8

swim 15 laps

run 30 min

bike 45 min

run

30

min

bike 50 min

swim 15 laps

rest

run 60 min

WEEK 12

swim 25 laps

run 45 min

bike 60 min

run

45

min

bike 50 min

swim 25-30 laps

rest

run 60 min

This times change from week to week, gradually increasing for 3 weeks, then tapering for a week.

For the Half-marathon, I'm run 3-4 times a week, which includes one long slow run (5-8 mi) and one hills or speed run (3 mi).

For the Century ride, I'm ride 2-3 times a week, which includes one speed and hills ride (20 miles) and one long slow ride (3-4 hours).
5. What would possess anyone to do something like this?
Before I trained with Team in Training, I would have said:

| | |
| --- | --- |
| | to challenge myself and make life interesting |
| | to raise money for the Leukemia & Lymphoma Society |

But after having worked with Team in Training and met people whose greatest desire in life is to live, and for their children to live, I have a different answer...

I run because I can. I raise money to find a cure.

Please see my post-race commentary for a look at triathlon up-close.
6. How do you raise money for the Leukemia and Lymphoma Society?
My husband Steve and I have signed up to run the Columbia Triathlon with Leukemia and Lymphoma Society's Team in Training. Between us we have agreed to raise at least $4000 for the Society by writing to family, friends, neighbors, and co-workers, by having fund-raisers, etc.

For our 2003 season, our families and friends and neighbors helped us reach our goal. Special thanks go to the following: Addisville Reformed Church in Richboro, PA; Peter's Fishery in Matawan, NJ; Silky Wave Beauty Salon in Little Silver, NJ, and the Men's Warehouse.

For the 2004 season, the Men's Warehouse supported me completely!
Sign up for a TNT event by contacting your local TNT chapter. 1-800-482-TEAM.

To contribute: I'm always raising money now for the Leukemia & Lymphoma Society. (our spring 2003 letter, our spring 2003 update, my post-race update).

Please click on Steve's Fundraising page.

If you would like to help, please email me at laura.drexler@usa.net.

Give as much as you can.

No donation is too small.